Wireless Product Equipment - Network Routers, Access Points, TV, Adapters and More
This is a great topic that shows us how the technology is to be used
Wireless Routers
The centerpiece product of many home computer networks is a
wireless router
. These routers support all home computers configured with wireless network adapters (see below). They also contain a network
switch
to allow some computers to be connected with
Ethernet
cables.
Wireless routers allow
cable modem
and
DSL
Internet connections to be shared. Additionally, many wireless router products include a built-in
firewall
that protects the home network from intruders.
Illustrated above is the Linksys WRT54G (
compare prices
). This is a popular wireless router product based on the
802.11g
Wi-Fi
network standard. Wireless routers are small box-like devices generally less than 12 inches (0.3 m) in length, with LED lights on the front and with connection ports on the sides or back. Some wireless routers like the WRT54G feature external antennas that protrude from the top of the device; others contain built-in antennas.
Wireless router products differ in the network protocols they support (802.11g, 802.11a, 802.11b or a combination), in the number of wired device connections they support, in the security options they support, and in many other smaller ways. Generally only one wireless router is required to network an entire household.
-------------
Wireless Access Points
A
wireless access point
(sometimes called an "AP" or "WAP") serves to join or "bridge" wireless clients to a wired Ethernet network. Access points centralize all WiFi clients on a local network in so-called "infrastructure" mode. An access point in turn may connect to another access point, or to a wired Ethernet router.
Wireless access points are commonly used in large office buildings to create one
wireless local area network (WLAN)
that spans a large area. Each access point typically supports up to 255 client computers. By connecting access points to each other, local networks having thousands of access points can be created. Client computers may move or
roam
between each of these access points as needed.
In home networking, wireless access points can be used to extend an existing home network based on a wired broadband router. The access point connects to the broadband router, allowing wireless clients to join the home network without needing to rewire or re-configure the Ethernet connections.
As illustrated by the Linksys WAP54G (
compare prices
) shown above, wireless access points appear physically similar to wireless routers. Wireless routers actually contain a wireless access point as part of their overall package. Like wireless routers, access points are available with support for 802.11a, 802.11b, 802.11g or combinations.
----------------
Wireless Network Adapters
A
wireless network adapter
allows a computing device to join a wireless LAN. Wireless network adapters contain a built-in radio transmitter and receiver. Each adapter supports one or more of the 802.11a, 802.11b, or 802.11g Wi-Fi standards.Wireless network adapters also exist in several different form factors. Traditional
PCI
wireless adapters are add-in cards designed for installation inside a desktop computer having a PCI bus.
>USB
wireless adapters connect to the external USB port of a computer. Finally, so-called
PC Card
or
PCMCIA
wireless adapters insert into a narrow open bay on a notebook computer. One example of a PC Card wireless adapter, the Linksys WPC54G (
compare prices
) is shown above. Each type of wireless network adapter is small, generally less than 6 inches (0.15 m) long. Each provides equivalent wireless capability according to the Wi-Fi standard it supports.
Some notebook computers are now manufactured with built-in wireless networking. Small chips inside the computer provide the equivalent functions of a network adapter. These computers obviously do not require separate installation of a separate wireless network adapter.
----------
Wireless Print Servers
A
wireless print server
allows one or two printers to be conveniently shared across a Wi-Fi network. Adding wireless print servers to a network:
Allows printers to be conveniently located anywhere within wireless network range, not tied to the location of computers
Does not require a computer be always turned on in order to print
Does not require a computer to manage all print jobs, that can bog down its performance
Allows administrators to change computer names and other settings without having to re-configure the network printing settings.
A wireless print server must be connected to printers by a network cable, normally USB 1.1 or USB 2.0. The print server itself can connect to a wireless router over Wi-Fi, or it can be joined using an Ethernet cable.
Most print server products include setup software on a CD-ROM that must be installed on one computer to complete the initial configuration of the device. As with network adapters, wireless print servers must be configured with the correct network name (
SSID
) and encryption settings. Additionally, a wireless print server requires client software be installed on each computer needing to use a printer. Print servers are very compact devices that include a built-in wireless antenna and LED lights to indicate status. The Linksys WPS54G (
compare prices
) 802.11g USB wireless print server is shown as one example.
------------
Wireless Game Adapters
A
wireless game adapter
connects a video game console to a Wi-Fi home network to enable Internet or head-to-head LAN gaming. Wireless game adapters for home networks are available in both 802.11b and 802.11g varieties. An example of an 802.11g wireless game adapter appears above, the Linksys WGA54G (
compare prices
).
Wireless game adapters can be connected either to a wireless router using an Ethernet cable (for best reliability and performance) or over Wi-Fi (for greater reach and convenience). Wireless game adapter products include setup software on a CD-ROM that must be installed on one computer to complete initial configuration of the device. As with generic network adapters, wireless game adapters must be configured with the correct network name (
SSID
) and encryption settings.
--------
Wireless Internet Video Cameras
A
wireless Internet video camera
allows video (and sometimes audio) data to be captured and transmitted across a WiFi computer network. Wireless Internet video cameras are available in both 802.11b and 802.11g varieties. The Linksys WVC54G (
compare prices
) 802.11g wireless camera is shown above.
Wireless Internet video cameras work by serving up data streams to any computer that connects to them. Cameras like the one above contain a built in Web server. Computers connect to the camera using either a standard Web browser or through a special client user interface provided on CD-ROM with the product. With proper security information, video streams from these cameras can also be viewed across the Internet from authorized computers.
Internet video cameras can be connected to a wireless router using either an Ethernet cable or via Wi-Fi. These products include setup software on a CD-ROM that must be installed on one computer to complete initial Wi-Fi configuration of the device.
Features that distinguish different wireless Internet video cameras from each other include:
resolution of the captured video images (for example, 320x240 pixel, 640x480 pixel, and other image sizes)
motion sensors, and the ability to send email alerts when new activity is detected and captured
ability to time stamp images
built-in microphones and/or jacks for external microphones, for audio support
types of WiFi security supported, such as WEP or WAP
-----------
Wireless Range Extender
A
wireless range extender
increases the distance over which a
WLAN
signal can spread, overcoming obstacles and enhancing overall network signal quality. Several different forms of wireless range extenders are available. These products are sometimes called "range expanders" or "signal boosters." The Linksys WRE54G (
compare prices
) 802.11g Wireless Range Expander is shown above.
A wireless range extender works as a relay or network
repeater
, picking up and reflecting WiFi signals from a network's base router or access point. The network performance of devices connected through a range extender will generally be lower than if they were connected directly to the primary base station.
A wireless range extender connects via Wi-Fi to a router or access point. However, due to the nature of this technology, most wireless range extenders work only with a limited set of other equipment. Check the manufacturer's specifications carefully for compatibility information.
Wireless
VGA
to TV converter
Wireless
VGA
to TV converter for professional presentations, computer gaming, internet videos, and more on your TV.
Simply connect the sender unit to the VGA and audio ports on any laptop, desktop, video game console, or any other VGA source with the supplied cable. The sender converts the signal from VGA to the signal your TV uses and sends both the video and audio signals wirelessly up to around 75-100 feet line of sight. The transmitter unit is equipped with
composite
outputs. Simply connect your TV to the receiver unit using the included cables (composite video/audio).
The unit also functions as a wired VGA to converter box. There are composite,
S-video
, and RGB out ports on the sender unit as well.
Note:
Not reccommended for text based applications such as email or web browsing, however if neccessary the manufacturer recommends at least a 14 point font
This device uses the 2.4Ghz frequency, which can also be used by Wireless internet, cordless phones, remote controlled electronics and other wireless devices. To help you avoid interference, you can select from 4 channels on the SW-28760, but in some cases there may not be enough available bandwidth to get a clear signal. In those cases we recommend looking at our wide range of wired PC to TV converters like the
SW-23000
.
AT&T Wireless Receiver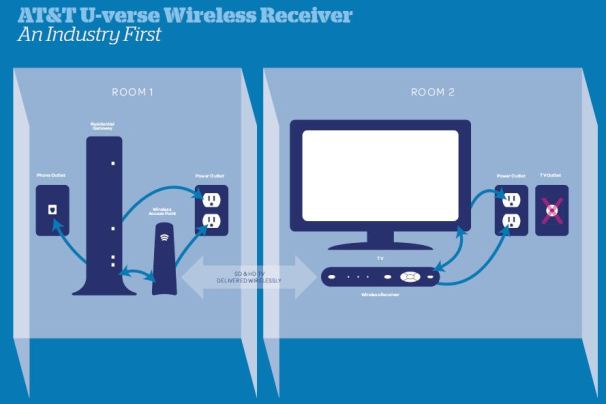 Even with TV Wireless Receiver, the basic U-Verse setup is unchanged. AT&T's residential gateway plugs into a phone outlet, and its wireless access point connects to the gateway. The gateway and access point each connect to a power outlet.
Here's where it gets innovative: The TV and wireless receiver reside together in another room. The solution isn't entirely wireless, however, as the TV connects to the receiver via HDMI, and both devices plug into a power outlet. Video is streamed over your Wi-Fi home network.
The wireless box is a fully functional U-verse receiver, capable of showing both standard and high definition TV. It has DVR capabilities, and can access interactive TV apps and the U-verse movies library. It also includes a wireless signal indicator to help you find the best location for the receiver.
Product Description
Great sound without the wires!
Lets you hear every detail in your TV show, movie or music
2.4GHz technology provides crisp, clear wireless sound up to 150' away from the transmitterG??even through walls
Goes where you doG??to the kitchen for a snack or to check on the kidsG??so you never miss a word
Wireless desktop transmitter has USB and AUX IN connections for TV, CD/DVD player, PC/laptop or MP3 player
Features auto noise reduction and high-def audio with deep bass effect
Soft-touch padded headphones
Adjustable headband for a comfortable fit
Headset uses 2 AAA batteries (not included)
Take in a late night show while your partner sleeps.
Stop fighting over the TV volume once and for all! With our 2.4GHz Wireless Headphones, you can get crisp, clear, LOUD sound without disturbing those around you. Late night sports game? Partial to the evening news? Now you can listen to your favorite programs while your partner sleeps soundly beside you.
Easy to connectG??plus premium sound!
The headphones' wireless desktop transmitter has USB and AUX IN connections for TV, CD/DVD player, PC/laptop, or MP3 player. You only need to pair the headphones and transmitter to an audio source once. Use the same audio source again, and the headphones will automatically pair to the transmitter once it's connected! Soft-touch padded headphones let you listen in comfort for hours. Headset uses 2 AAA batteries (not included) for 10 hours of continuous play.
GoogleTV Wireless Media Player
GoogleTV
Lets you wirelessly search live TV, the Internet, apps and more.
Built-in wireless-N (802.11b/g/n)
Connect to the internet without wires.
Google Chrome browser
Enables fast Web surfing.
Google Play Store
Provides access to a wide variety of apps, such as Netflix, Pandora, YouTube and more (additional fees may apply). Sony Entertainment Network offers thousands of streaming songs and movies (additional fees may apply).
Universal remote
With a clickable touchpad and backlit QWERTY keyboard provides expansive control over the player. A 3-axis sensor enables precise motion-based gaming.
1.2GHz dual-core processor
For fast, powerful computing. The 8GB of internal memory provide ample storage.
Media Remote app
Lets you use your Apple® iPhone® or Android mobile phone or tablet as a remote with a QWERTY keyboard (available via download).
Inputs
Include 2 USB ports (rear) and a 100Base-TX Ethernet port.
Outputs
Include 1 HDMI (rear) and 1 optical audio (rear).
Apple, the Apple logo and iTunes are trademarks of Apple Computer, Inc., registered in the U.S. and other countries. iPod is a trademark of Apple Computer, Inc.