Your webcam is obviously handy as a communications device, but with help from
software
, you can turn it into a security camera pretty easily.
Ugolog doesn't require any software
Video is recorded directly to Ugolog's
servers
and you can tune in any time you like to watch a live stream of what your webcam is seeing.
Price:
various monthly plans, the most expensive is
$29.95 per month
Yawcam is completely free
You can also view live video over the internet, shoot time-lapse movies, and set it to upload images to an FTP server however you like.
Price:
free (donations encouraged)
MyWebcam Broadcaster
You can view your feed from anywhere you like on your mobile device -- just use the MyWebcam app, currently available for Android, Blackberry, Java Mobile, iPhone, and iPad.
http://www.eyespyfx.com/broadcast.php
Price:
free
EvoCam is packed with features
"create timelapse movies, record movies when motion or sound is detected, publish a webcam image on a web server via FTP, or integrate EvoCam with your security system or home automation software.
"
Price:
free for 15 days,
$30 after that
iSpy can collaborate with your home automation system
For example, if it detects an intruder, it can "instantly turn the lights on, play a sound of a dog barking and send yourself a framegrab directly to your mobile phone."
http://www.ispyconnect.com/
Price:
free
UStream is free and functional

You can set your stream to be public or password-protected, and there's no time limit for recording. Let it run as long as you like and UStream will archive your video on their servers.
This is one powerful webcam
It also has plenty of useful sensors that let you configure it to be sensitive to motion, sound, or heat.
Price:
around $200
Why not get a robot?
Screenshot
The WoWee Rovio is a WiFi-controlled remote webcam that lets drive around your house and broadcast live video over the internet. If you'd like to be able to move around your place in real time, this is for you.
It has LED headlights and a waypoint system, meaning you won't have to manually steer it long distances.
Web Camera Security System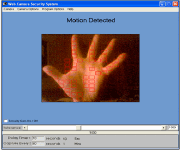 WCSS is an affordable and effective remote monitoring solution for detecting motion and recording video automatically.
Turn your WebCam into a Security Camera. No extra equipment needed. Just set the timer and leave the room. The camera will detect the first thing that moves and start recording video in AVI format. Set to record in intervals to assure the culprit is caught on tape. Automatically E-mail JPEG images when Motion is Detected. Can be used to detect motion even in dimly lit areas with the Night Detection feature. Stealth Mode and Super Stealth Mode allow you to cloak the window out of site away from prying eyes. Highly customizable motion detection settings. This application was specifically designed to give everyone else a Security Camera with Motion Detecting capabilities with out the hefty price.
Web Camera Security System takes your web cam and turns it into a fully automated security video surveillance camera that will capture video while you are away.
Software Information
System Requirements
Version:
1.0

Windows 98/2000/XP/NT/ME/Vista
Pentium II CPU
256 MB of RAM

License:
Free to try, $19.95 to buy
File Size:
1.31 MB
Screenshot:
View Screenshot
Rating :
Key Features of Web Camera Security System:
Set Motion Detection Tolerance
Auto-Records AVI Video when Motion Detected
Record in Intervals or Long Term to Ensure Capturing
Stealth Mode to Quickly Hide Program from Prying Eyes
Night Detection for Dimly Lit Capturing
Delay Timer Provides Time to Leave the Room
Records Time and Date of Video Capture
Customize Video Format and Video Compression
Record Still Shots on Timed Interval or on Motion Detect
E-mail Snapshots on Motion Detection
There are many uses for Web Camera Security System:
See who is snooping around your home or office
Monitor your child's actions from the other room
See what your kids are up to when they come home from school
Make sure the babysitter is not abusing your children
Watch maintenance workers to make sure they don't rip you off
Use Video to Conduct studies of the behavior of your subjects
Find out who is using your computer
See how your pets react when you are away