I will first start introducing you to the apple tutorial that are well prepare for an airprint like much around in the market ; but what about our good network printer with no WiFi capability. there is a solution called appstore
About AirPrint
AirPrint is an Apple technology that helps you create full-quality printed output without the need to download or install drivers.
AirPrint
With AirPrint, it's easy to deliver full quality photo and document printing from your iOS and OS X apps. Just select an AirPrint printer on your local network to print from your favorite iOS or OS X app. AirPrint is built into most popular printer models. AirPrint features include easy discovery, automatic media selection, and enterprise-class finishing options.
To use your AirPrint printer with Wi-Fi, the printer must be connected to the same Wi-Fi network as your iOS device or Mac, either through bridging, or a direct connection to your Wi-Fi network.
You can learn more about using your AirPrint printers from these articles:
For best results
Make sure your software is up to date. For iOS, verify that your device is using the latest version of iOS available and that the app you're printing from is up to date. For OS X, Use Software Update to update OS X and apps you've purchased from the Mac App Store.

AirPrint printers connected to the USB port of an Apple AirPort Base Station or AirPort Time Capsule are not supported with AirPrint. Connect your AirPrint printer to your network using Wi-Fi, or connect it to a LAN port on your AirPort device using Ethernet.

Make sure that your AirPrint printer is connected to your network before attempting to print. Some AirPrint printers can take several minutes to join a network after being turned on.
If you're unable to print
Check these things if you are unable to print, or if you see the message "No AirPrint Printers Found."
Make sure your printer has paper, and enough ink or toner installed.

Make sure your printer is connected to the same Wi-Fi network as your iOS device.

Make sure your printer has power and is turned on. Try turning your printer off and then back on again to see if it resolves your issue.

Check to see if your printer has any error lights or indicators displayed on the printer's control panel. Check the documentation that came with your printer to clear any errors displayed.

Check with your printer's manufacturer to see if any firmware updates are available for your printer. Check your printer's documentation or contact the printer vendor for more information. A firmware update may be available, even if you just bought your printer.
The information below is provided by each manufacturer and is updated once a month by Apple. You can use the Find feature of your web browser (usually Command-F) to search for a specific device in this list. If you don't see your printer or server listed, check with the printer manufacturer for more information.
AirPrint servers
HP ePrint Enterprise

HP NFC/Wireless 1200w – Mobile Print Accessory

Lexmark Print Management
AirPrint printers
The following printers come with AirPrint support.
Brother
Brother DCP-7180DN

Brother DCP-8110DN

Brother DCP-8150DN
Tutorial for network printer
2-Search for Printer Pro by Readdle and download it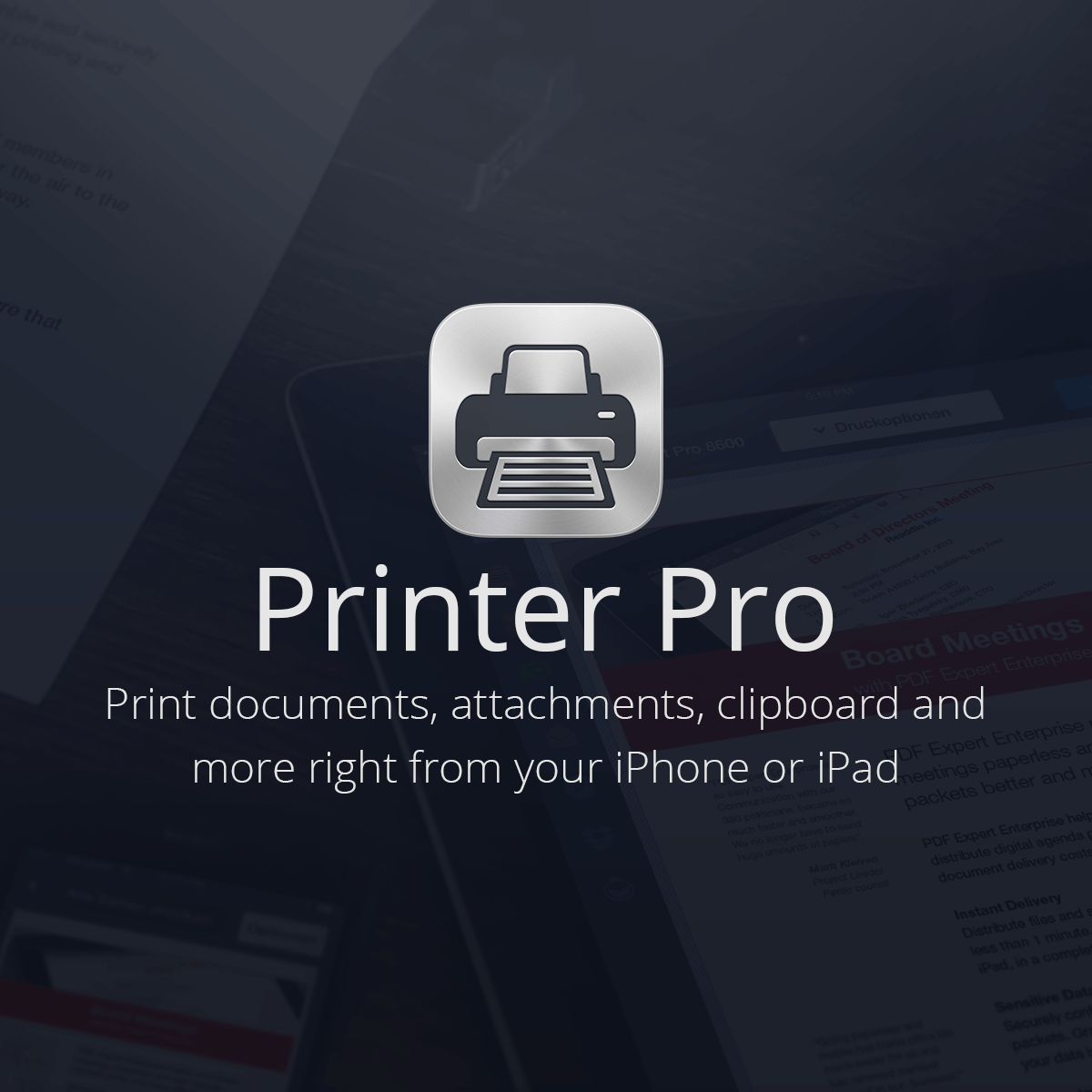 3-Install the program and run it, follow the setup guide
3.1 if no printing are coming out yet
3.2 follow the second tutorial to get the link
Printer Pro Desktop allows users to print to any printer connected to your Mac/PC using Printer Pro app. We also advise to use Printer Pro Desktop in case the network printer is not compatible with Printer Pro application installed on the iPad/iPhone/iPod Touch.