..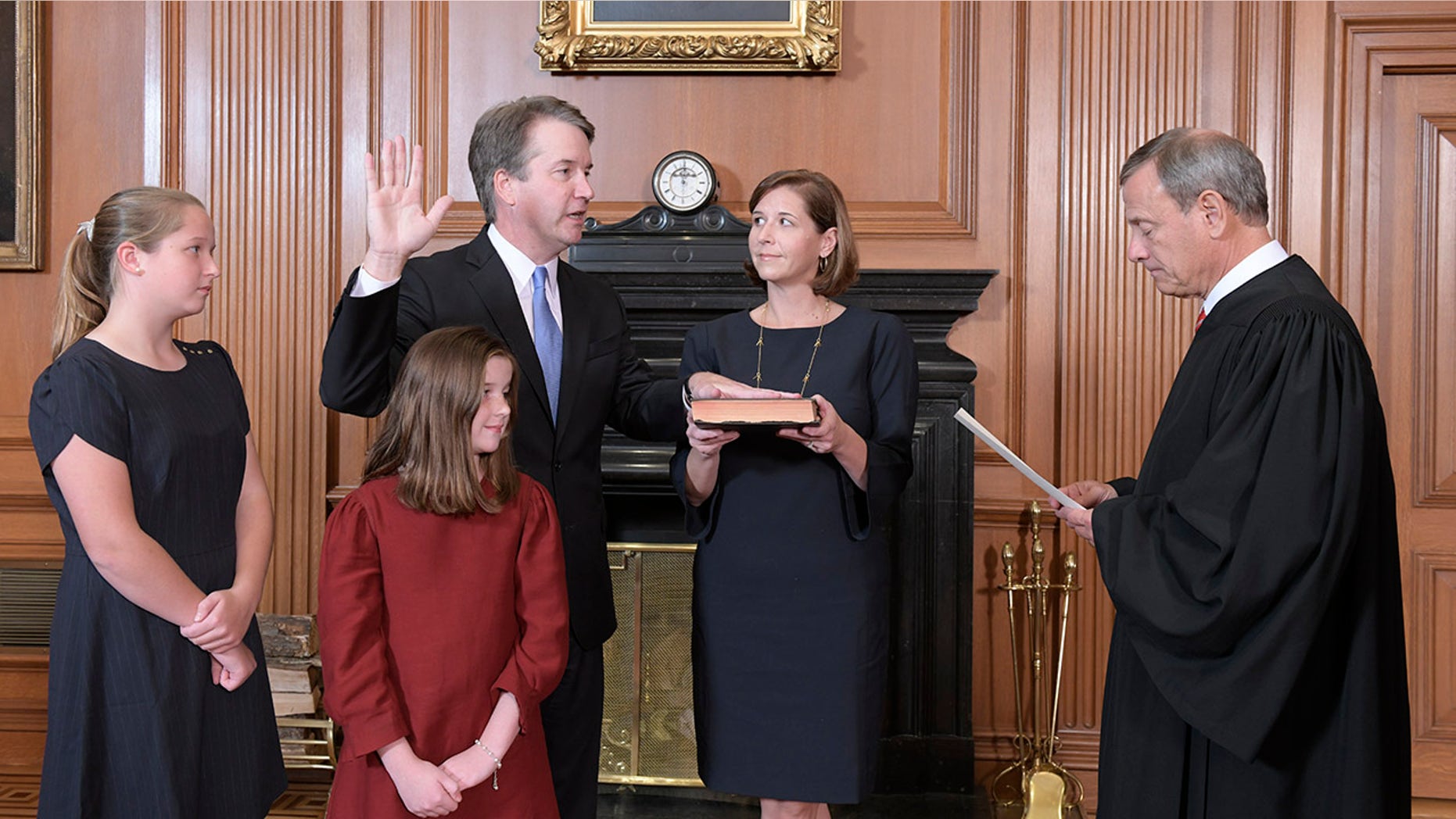 Judge Brett Kavanaugh was sworn in as the 114th Supreme Court justice late Saturday, just hours after the Senate voted to confirm him to the nation's highest court after a rancorous confirmation battle.
Kavanaugh was sworn in by Chief Justice John Roberts in a private ceremony, accompanied by his wife and children. The ceremonial swearing in is expected to happen on Monday evening at the White House. It means that now-Justice Kavanaugh will begin hearing cases before the court on Tuesday.
The Senate voted 50-48 to confirm Kavanaugh, mostly along party lines, after a weeklong FBI probe helped settle concerns among most wavering senators about the sexual assault allegations that nearly derailed his nomination and led to a dramatic second hearing. Saturday's roll call marked the tightest successful Supreme Court confirmation vote in over 100 years, closer than even that of Clarence Thomas who similarly faced sexual misconduct allegations.
Sen. Joe Manchin, D-W.Va., was the sole Democrat to vote "yes." Sen. Lisa Murkowski, R-Alaska, was a "no," but voted "present" as a courtesy to Sen. Steve Daines, R-Mont., who was attending his daughter's wedding in Montana.
Democrats reacted to the vote by urging supporters to turn out to the polls in November for the midterms.
"The American people are raising their voices to a deafening roar today. We will not stop marching, we will not stop fighting, and we will vote on Election Day for leaders who share our values." Democratic National Committee Chair Tom Perez said in a statement.
House Minority Leader Nancy Pelosi, D-Calif., said it was a "heartbreaking day for women, girls and families across America." She also announced she is filing a Freedom of Information Act request so the public can view documents connected to the FBI's background investigation into sexual assault allegations against Kavanaugh.
"The conduct of the Senate Republican Majority did violence to the reputation of both the Senate Judiciary Committee and the Supreme Court. We must proceed in a judicious manner to set the record straight and ensure that this never happens again," she said.
Senate Majority Leader Mitch McConnnell, R-Ky., brushed off criticism from Democrats and said it was "a good day for America and an important day for the Senate."
"We stood up for the presumption of innocence, we refused to be intimidated by the mob of people coming after Republican members at their homes and hallways," he said.
"I applaud and congratulate the U.S. Senate for confirming our GREAT NOMINEE, Judge Brett Kavanaugh, to the United States Supreme Court," President Trump tweeted. "Later today, I will sign his Commission of Appointment, and he will be officially sworn in. Very exciting!"
The result was all but secured Friday night when undecided Sens. Manchin and Susan Collins, R-Maine, announced they would vote to confirm Kavanaugh, along with Sen. Jeff Flake, R-Ariz., who threw a curveball into the process when he requested the supplemental background probe last week as a virtual condition for support. Collins, on the Senate floor Friday, dismissed claims that Kavanaugh would be an extremist judge, and said the sexual assault allegations against Kavanaugh failed to meet the "more likely than not" standard.
The explosive battle over his seating as the ninth justice extended Saturday into the vote itself, with protesters shouting from the gallery and packing the Capitol and Supreme Court grounds – vowing to inflict payback against Republicans in November, and indicating Kavanaugh will be a lightning rod for years to come.
https://www.foxnews.com/politics/kavanaugh-sworn-in-as-114th-supreme-court-justice-hours-after-senate-votes-to-confirm