How to check my incoming signal (db) to my Comcast 's receiver?
Cómo diagnosticar mi señal en mi receptor?
First of all a JDSU Dsam meter it is made for this purpose but no one has it at home and the price of this value it is above the reasonable usage at home,but I will show my trick of how I got same information using my own receiver that measure the incoming signal
-remote sylver of xfinity: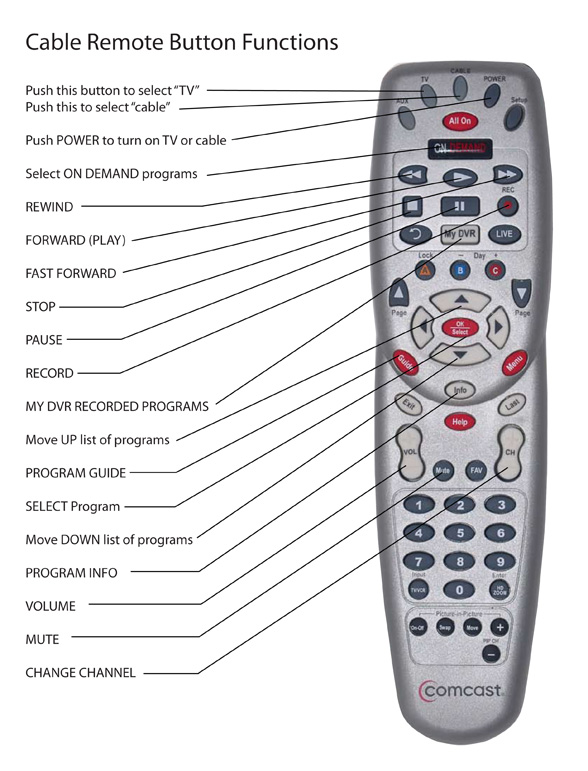 1-press (CABLE) for a second,wait it light up,then
2-press (POWER) and then (OK) twice :a black screen will show up; different receiver will have different manu
3-look for (IN BAND STATUS)
4-look for upstream mode,check for level range
TO EXIT THIS BLACK SCREEN PRESS POWER POWER
how to setup my HD setting on my receiver screen
1-press power menu
1.1-the menu will look similar to this "pace user setting"
2-go to tv aspect ratio and choose 16:9
3-go to "tv aspect capability" and press yes to 1080i,720p
to exit press power
this tutorial are only for receiver :Motorola and Pace,but You can use same instruction for DTA (adapter digital transporter)
En primer lugar un DSAM metros JDSU está hecho para este fin, pero nadie tiene en casa y el precio de este valor está por encima del uso razonable en casa, pero voy a mostrar mi truco de cómo llegué misma información a través de mi propia receptor que medir la señal entrante
a distancia sylver de xfinity:
1-press (CABLE) por un segundo, espera que se enciende, entonces
2 Presione (encendido) y después (Aceptar) dos veces: una pantalla en negro aparecerá; diferentes receptor tendrá diferentes manu
3-buscar (EN ESTADO BAND)
4-buscar el modo de corriente, compruebe rango de nivel
PARA SALIR DE ESTA PANTALLA NEGRO COMUNICADO DE POTENCIA
cómo configurar mi configuración HD en la pantalla del receptor
Menú de encendido 1-press
1.1-En el menú tendrá un aspecto similar a este "ajuste de usuario ritmo"
2-ir a la relación de aspecto de la TV y elegir 16:09
3-ir a la "capacidad de aspecto TV" y pulse Sí para 1080i, 720p
para salir del poder de la prensa
Este tutorial es sólo para el receptor: Motorola y Pace, pero se puede usar la misma instrucción para DTA (transportador digitales adaptador)