DIYer Danilo wanted to share his internet access across multiple apartments, and traditional methods just weren't doing the trick. He wanted to try out a bigger antenna, but before buying one, cooked up a DIY option himself to see how well it worked. All i took was a bit of copper wiring, some aluminum foil, and some tupperware (to keep it protected from the elements, since it sat outside). The result was so good that he didn't even need to buy an antenna. You'll need to be able to solder, but if that's already a skill you have under your belt, this'll probably be a quick and easy project. Hit the link to see more.
Direttiva Biquad Per I 2,4Ghz
Continuiamo a parlare di antenne….e di 2,4Ghz.
Dopo aver presentato il progettino di un' antenna omnidirezionale…andiamo su una direttiva. Il segnale si concentra in un'unica direzione e il guadagno aumenta molto di più.
Di solito se ne fa un utilizzo outdoor .. magari per collegare 2 punti che si "vedono" tra loro. Ed e' proprio il mio utilizzo. Avevo da condividere una rete tra 2 appartamenti non molto distanti tra loro. Usando 2 omnidirezionali la connessione c'era..ma non era velocissima e molto spesso cadeva del tutto.
Non potendo modificare le antenne in entrambi le sedi mi sono dilettato a costruire questa direzionale "a costo zero" collegandola ad uno dei due access point.
una gruccia…o filo di ferro abbastanza spesso…o filo di rame con anima rigida

un saldatore

un metro
Dobbiamo riuscire a ripiegare il metallo in 2 quadrati con lato da 31 mm come rappresentato nella figura qui sotto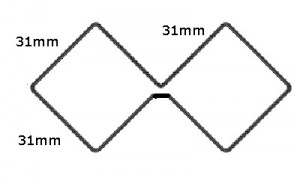 Al centro … saldiamo in uno spigolo il polo caldo centrale del cavo coassiale….e all'altro spigolo la calza.
FINE!
O meglio….dobbiamo solo inscatolare il tutto in modo da poter resistere alle intemperie. Io ho chiuso il tutto in un contenitore per alimenti…leggero ed ermetico. Un paio di fascette di plastica per fissare il tutto…e vi garantisco che sono 6 mesi che funziona tutto alla meraviglia.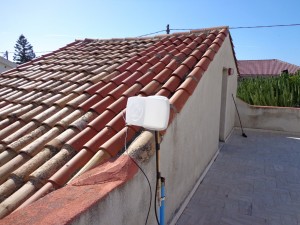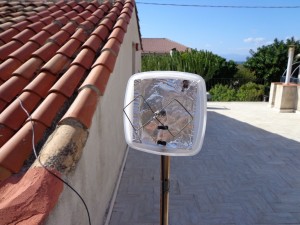 Per aumentare ancora di più il guadagno e la direzionalità si può aggiungere uno schermo riflettente di materiale metallico. Va bene un foglio di alluminio.
Il link e' di circa 400mt e sono passato da 5,5 Mbit altalenanti a 54Mb fissi.
….e se notate bene nell'ultima foto sono cresciute anche le piantine nel vaso….che il wireless favorisca la fioritura????